Large windows are usually picture or casement windows with a size over 36"x 60" per sash or glass section. Large windows improve the comfort in your home and are a key way to increase the house value and personal satisfaction with the whole house. However, large windows may be complicated and require high quality glazing and perfection installation.
Do you desire to buy a new house or upgrade an existing one? Is the natural light enough in your home? If not, plan to add large windows. Large window panes provide an abundant amount of sun's light and energy to your house. Many studies link natural daylight to high energy and positivity levels. We offer a great option of European tilt turn windows.
Think floor-to-ceiling glass panes, especially in colder climates. Even during the darkest days of winter, you will receive more sunlight and save energy costs. So, should you change existing ones with large ones? Do you go for glass doors for the interior? Canadian homeowners spend an average estimate of $19000 on upgrading windows every decade. Large windows are an expensive option that may take at least ten years to recover.
When to Change Your Windows?
Windows are usually replaced every 15 – 20 years. How quickly you replace your windows depends on the quality of the glazing, hardware, frame, seals, weather conditions, and climate. Generally, changing windows is a complicated process and requires qualified installers, quality products, patience, and money.
Windows along with doors are critical portions of your house. Doors get much attention, but windows often do not. But you should think of replacing windows in these situations:
Gaps are allowing air drafts inside.
Mold and rot often allow you to remove paint surrounding the window frame.
If the seal fails, you observe condensation on the glass or even between panes.
Cracks occur either in the panes or casings.
Lastly, opening and closing windows properly are difficult.
Replacement windows increase energy efficiency and home value in most cases. In fact, efficient windows save 8-40 percent of your energy spend. Will a prospective buyer consider a house with better aesthetics?
Large Window Prices
Large window prices vary from $800 – $3000 per new window. With the average cost per new large window being $800 – $2000 , the price of large windows for an average house would be between $7,000 – $40,000. Large window prices depend on the glazing, frame material, hardware, and size.
Replacement window costs depend upon the sizes, functions, and materials you seek. Here are the most common window types and their average prices.
Single-hung Window Prices
What makes an old-fashioned, classic view? Single-hung: Also economical in the $200-$450 range per unit. Notably, single-hung windows are primarily vertical, with the opening at the bottom. They are only safe for ground floors.
Double-hung Window Prices
Double-hung windows circulate extra air if you unfold both the upper and lower sash together. The typical cost for a unit is $375-$1050. You can use them safely on upper floors also as the sash opens inward in both cases.
Sliding Window Prices
If you want more viewing area, install sliding windows. One pane or sash is movable and slides over the other fixed pane. The range is slightly high, between $450-$1500 per unit. Although these are not difficult to clean, avoid using them on upper floors for safety purposes.
Casement Window Prices
Casement windows can lighten your wallet anywhere between $350-$1600. These are especially a right fit for small bathrooms, the kitchen, and even the sitting room. It easy to operate them if you think of them as doors with sideways hinges. They also have a crank, and the full opening feature of the window gives maximum ventilation.
Awning Window Prices
Like the casement windows, awning windows have a price tag between $350-$1600 for a piece. But they have a hinge on the topside and open fully outward. What makes awning windows a reasonable choice for your basement? They are efficient windows and circulate more air even in smaller spaces. However, in large sizes, they can be problematic.
Bay Window Prices
Bay windows mainly consist of three panes and are expensive within the $2500-$3000 range. Want to add square footage and increase the amount of light in the interior? Go for bay windows as they give additional seating space.
Bow Window Prices
Choose bow windows if you can afford anything between $1000-$5500. Their light factor is higher than bay windows, but they will occupy less square footage. You can select four to five panes in the same footage, whether fixed or venting.
Picture Window Prices
Homeowners typically pay between $500-$2000 for a large picture window with a wood frame short of the ceiling. If you have incredible scenery outside with warmer climates, consider picture windows in the living room.
Along with the window, your needs may include a variety of window treatment options to control the light. Blinds and shades give more comfort and satisfy privacy needs. In most cases, they can also aid in maintaining the interior temperature in a desirable range.
How Much Do Commercial Windows Cost
Commercial windows cost between $200 and $10,000 per window which is a cost of roughly 20% – 300% on top of the price for residential windows. The reason for the higher cost of commercial windows is the fact that they have higher safety requirements and are usually designed with large, tinted glass panes.
In terms of safety requirements, commercial windows usually need to be tempered or laminated. Sometimes they also require special parameters for burglary resistance. These factors add to the complexity and cost of the glass units, which when in a large size, as they usually are, further raises the total window cost. However, this is not the only factor for the higher cost.
The second factor has to do with the designing process. Because commercial windows need to entice customers to come in, designers like to add special features. Such features are usually heavily tinted or mirror-like glazing along with having an overall large window size and cool geometry. Although these things can give off a feeling of higher status or professionalism, they come at a cost. However, this cost is not only an initial one, which is calculated for the window sale price, but also a long term one. For example, windows with a heavy or dark tint heat up much more and as such transfer more heat from the outside to the inside. This higher transfer of heat leads to higher air conditioning bills and overall worse window performance. In addition to this, tinted glazing also lets in less sunlight. So, the windows become less efficient at lighting up the space inside. If the indoor space needs to be bright as a part of the business image, that means that more light sources are needed, raising the electricity bills. Although some projects are balanced in terms of keeping more comfort benefits, some are not.
So not only is the cost higher because of safety reasons but also because of the special aesthetics standard.
Long Windows for House
Long windows for houses are a very convenient and stylish option. They create a unique "wow" effect and can elevate any project making it look modern and fashionable. Today, long windows are available in a verity of styles and colors to suit any type of house.
There are two general types of long windows. Ones that go across a wall horizontally and ones that do so vertically. Both of these options are a very modern choice for homeowner's today. The long and narrow windows that stand vertically resemble the Gotika style of the past but are now more minimalistically centered. They create a powerful statement that many adore. However, there are several issues with having long windows stand vertically. First, the windows themselves have to be specially made. That is, they need to be designed with stronger frames and the glazing usually needs to be tempered. The wall structure around these windows also has to be specially reinforced. This complicates the design process and a "good enough" solution will not be suitable for the long term with these windows. In addition to this, there could be issues with furniture placement. Although long vertical windows don't take up much wall width, it looks bad to cover the bottom portion or crowd the sides with furniture. As such, when multiple long windows like these are used on the same wall, it restricts your freedom with furniture. Although this is usually not a problem for large houses since there is plenty of room elsewhere, it can be more of a problem for smaller homes where space is limited. In terms of price this window complexion is more costly given all the preparation needs.
An alternative to long vertical windows are long windows placed horizontally across a wall. Ideally, it can be best to have them at chest level or higher. Large windows like these can produce nearly 70% of the "wow" effect of long vertical windows but is a much simpler engineering decision. In addition to it being cheaper, there would be less hassle with additionally customizing the windows. Since they would not be supporting as much load, they wouldn't need extra frame strength, Also, since the windows would not be starting from the floor, they would provide less energy losses and not required tempered glazing. In addition to this, they could also be placed many times where normally windows can't be placed. For example, if there is a room where putting a regular window would lead to privacy concerns, it would still be possible to have a long horizontal window above chest or even eye level. When doing so, it would add a lot to the room in terms of natural lighting, general visual impressions, and comfort. This solution would also still allow furniture to be placed against the wall with the window. As such, it is a great option for smaller homes in tighter spaces.
Wall Of Windows Cost
The wall of windows cost is between $40/ sqft and $1000/ sqft. The main reasons for this high cost are all the glazing requirements, the addition of a glass dome on top of the windows, and tinted glazing. Also, since a wall of windows is massive, the large size adds to the total cost too.
A wall of windows is the most expensive window completion you can get. the reason why they're so expensive mainly has to do with the glazing. First off, there are a lot of mandatory requirements for a wall of windows given their large size and purpose in a project. Some of these requirements are the need to have low bearing or structural glazing, tempered glazing, thicker individual glass panes, special sealants, and more. A wall of windows also needs to pass fire and various shipping requirements. Moreover, along with the mandatory glazing requirements, there are also desired glazing features added too. The main ones being some sort of tinted glazing. All of these glazing properties on a wall of windows make the glass units quite complex and as such quite expensive on their own. However, the rise in cost doesn't stop there. Since the majority of buildings that use a wall of windows are skyscrapers, a dome of glass is used on top of the main windows. For a sleek look of windows on windows with nothing separating the large sheets of glass, a separate structure is built. This structure is like a dome of glass that is placed in front of the main windows and walls of a building. Between this sheet of glass and the building walls with windows is a 4ft gap to allow some windows to open. This way, the outside wall will not disform when someone needs to open a window. Nevertheless, this double glass approach is very costly and requires the highest glazing standards. When considering the amount and size of windows used in a true wall of windows, the cost is colossal. Although, considering the price of skyscrapers in general, the wall of windows cost is proportionally balanced.
Large Window Replacement Cost
Large window replacement may cost you from $1000 – $3000 in total. If buying special replacement windows, the cost may be another 5% – 20% higher. If replacing windows yourself, you can to save $200 – $300 on crew instillation cost. However, you may need special equipment which you could rent.
You can expect to pay between $600-$800 as the average installation charge for replacing each window. Typically, the estimate is for same size windows. So, replacement costs for twenty large windows in a double-story house will range between $7000-$18000. An open secret: plan replacing windows together to reduce replacement costs.
What factors influence the cost?
Windows are a complex product and have many cost aspects. However, these can all fit into 7 groups. The top 7 biggest factors that influence the window cost:
Window Size
The Glazing
The frame material
Vender Pricing and Overhead cost
Window Type (Picture or Casement)
Frame Color
Hardware and Technology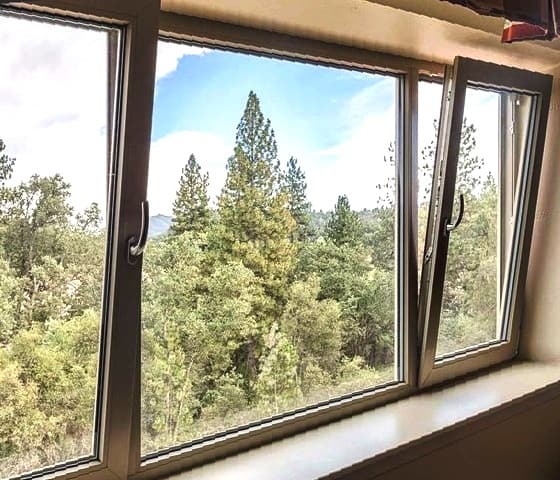 You may incur extra costs due to various factors. Some of them are:
Are you replacing only the window or the installed frame as well?
Do you want double or triple glazing?
What quality of gases do you select?
Window dressing options that you select
Serious faults to the structure of the house
Where you live?
Time demands on your contractor
Replacing or repairs
Can you salvage the previously installed windows through expert repairs? Repairs may work to remove issues like broken glass or minor water leaks. However, foggy windows, problems with structure, and major water leakage call for replacing the windows intirely.
How Much Do Large Windows Cost
Large windows cost is between $ 400 – $ 4000 per new large window. The cost depends on several aspects like the size, glazing, frame matirial, fame color, window type, hardware, technology, and vender pricing. Overal, the cost for large windows for one project is between $ 1000 – $ 100 000.
Large Plate Glass Window Cost
Large plate glass windows usually have a thickness of 3-5 mm, but glass doors are at least 8 mm thick. They are flat, smooth, and transparent. The glass transmits natural light in the range of 80-90 percent. Plate glass gives an aesthetic effect to windows as it is shiny, clean, and of moderate thickness.
If you are looking for a picture window for your living room, a large plate glass can provide an amazing difference in clarity. Your local installer can guide you on the installation costs. As an average, you can expect fees in the range of $400-$800.
Large Double Pane Window Cost
Large double pane window cost is between $400 – $ 3000 per window. This cost mainly depends on the size, vender pricing policy, and quality of the frames as well as the frame material. For 10 large double pane windows, the cost would be around $8000 – $20000 in total. Instillation for those 10 windows would be another $2000 – $5000.
A typical large double pane window for the living room costs between $160-$1270. Typically, it is a 6 X 4 feet large upvc windows with 5-6 mm pane thickness and additional installation costs in the $400-$800 range. Frame material like wood can cost you more. Add other charges for additional treatments that you do for the window.
Options For Large Windows
There are many options for large windows and extra-wide ones. These include soundproofing, sun protection, energy efficiency, triple pane glazing, custom sizing, frame colors, grilles, mullions, muntins, window hardware, and more. There are also treatment options like blinds, shades, curtains, drapes, shutters, sills, and window trims.
When looking at large window options, you have 3 categories. First is style, second is treatments, and third is glazing properties. With style options for large European windows, you have options for fame color, window grilles, muntins, mullions, and size. Whether you are looking to make your house look better or just want to have the windows stand out on their own, these features can be used to do that. However, they have their downsides and will cost you 10% – 30% more.
Large Window treatments
With window treatments, there are a lot of choices as well. Blinds, curtains, drapes, sills, trims, and shutters are some of the readerly available large window options for treatments. In most cases, blinds or curtains are a must have. But, the kind of treatments you choose can make a big difference.
With glazing properties, although the investment may seem too technical, these are vital for creating satisfaction worthy results. Depending on your climate and surrounding environment, options like soundproofing and sun protection can be very important. However, there are other options too like spacer properties and the type of glass you choose for the filling, not to mention the big decision between double and triple pane. So, when looking at large window glazing aspects, it is important to understand what you need and how to achive it. With us, you can ensure an optimized solution as we provide 100% custom vinyl windows. When looking at you project data, we can figure out what glazing properties you need and to what degree.
Large windows connect you better with your surrounding environment. However, privacy is often an issue due to their large sizes. So, the options you choose need to be decided on carefully.
How to choose the right window size
The right window size depends a lot on how big your walls are and oftentimes, window size is very subjective to taste. However, many would agree that having large windows adds comfort and brightens up the entire mood of the room. Nonetheless, how big should windows be? For this, there is the aperture index. It takes into account 3 aspects. They are the area of the glazing on a wall, the visual transmittance percentage of the glass unit, and the area of the whole wall. This gives the aperture percentage that is usually between 5% and 50%. Most commonly in the USA and Canada, rooms have walls with an aperture percentage of 10 or less. However, a good standard for those wanting larger windows should be an aperture index of 20% or more. An aperture percentage of roughly 30% seems to be the sweet spot. That is if you are one who values the comfort and natural light large windows bring. However, 20% is also great. It is already by far better than the standard in many homes.
The Shading Coefficient
The shading coefficient measures the degree of solar energy that a glass unit passes through it in direct sunlight. All in comparison to how much of that energy a single 1/8" clear pane would pass through itself. This is useful for comparing how well basic windows protect the interior from solar energy. However, the shading coefficient has recently become irrelevant. A big part of why is the use of selective glass panes. Such is the case because solar energy, which the shading coefficient is based on, is an umbrella term. Meaning, it is a general term covering 3 aspects in this case. They are the solar heat gain coefficient, the visual transmittance percentage, and the ultraviolet transmittance percentage. However, with the use of selective glass, each of those aspects are covered one by one. This can result in truly custom performance.
Given environmental factors that differ from place to place, this kind of customization is key. It can ensure longer window life, better performance, and more comfort. Such is especially the case with large windows. So, it is best to not rely heavily on the shading coefficient when making a decision. Instead, it is often better to look separately at all the aspects it encloses. Paying attention to those details can better explain the future performance of your windows. In addition, it can also be the key to achieving your standards.
A plethora of choices for window coverings
Curtains come in all sizes, fabrics, colors, and patterns. They can be lightweight or heavy and are easy to use to filter light. However, drapes can be better if you want less light in your bedroom at night.
Drapes often come in pairs and are of heavy fabric. You may consider them for your bedroom as they provide complete privacy. Drapes hang from rods and generally extend from the top of the window, short of the ceiling to the floor. Velvet and silk drapes are popular, but pleats give them a formal appearance.
Blinds often use materials like wood, aluminium, and vinyl instead of a soft fabric. You can tilt open or close them for light and privacy. Unless you want to open the window, it is not necessary to lift the blind.
Window shades have a wide variety of benefits, but you can top them with a curtain or valence. They fit the window frame and do not hang below the sill like a curtain or drape. Also, shades usually roll up and down and cannot tilt like blinds to allow light. If you are happy with the range of colors and materials, you can forego the option of adding a curtain over them.
Best Blinds For A Large Window
Blinds like Roller, Roman, European, Venetian, Cellular, and Vertical style are all a great option for a large window. However, the best option is up to debate. Depending on your preferences, the best style for you may be different than for some others. Wood blinds are a great overall options as they are both functional and very stylish.
Sometimes in the summer, you may feel that large windows let in an incredible amount of sunlight. Since privacy is important, your needs may include window coverings. How do you dress large windows without losing their benefits? Blinds.
Venetian blinds
Venetian blinds have a standard depth of 1/2-inch, 1-inch, and 2-inch. You can top the blind with a sheer curtain to add colors to your bedroom. Blinds are also custom-made to fit the length and width of your window frame. Think of them if your windows are wide.
Wood blinds
Want a classic look? Try faux-wood blinds. These wood blinds resemble natural wood and are economical. Wood blinds on wood looking windows are a great combination.
Vertical blinds
If your windows are long, such as those leading to the patio, consider vertical blinds for coverings. They look sleek, and the slats are easy to clean. Best of all, you can easily move the vertical blinds sideways.
Cellular blinds
Cellular shades are best as they provide the perfect insulation and blocking of the sunlight to desired levels. The honeycomb-shaped cells in the shade trap hot air in the summer and cold air in the winter to keep the interior comfortable. Sunlight filtering and adjusting coverings are easy due to their lightweight.
Roller blinds
Roller shades raise or lower in a smooth action by rolling up on a tube. Additionally, they offer an economical option that benefits the style and texture of any room. They come in a lot of variety and are suitable for filtering light. Semi-opaque fabrics balance light and privacy.
Solar blinds
If your outdoors are scenic, go for a variety of solar shades. They are great for blocking sunlight and glare without affecting your outside view. Especially suitable for coastal homes, they have an openness factor between 3 and 14 percent. Solar shades are good at blocking harmful UV light but stop short of providing complete privacy during the night. These come in semi see through variety as well as black out ones.
All types of window treatments offer customized options to homeowners. However, you will do yourself a favor by choosing a motorized operation. After all, who will not like to raise or lower the blinds at the press of a button?