Soundproof windows are assessed based on their sound stopping quality by measuring it through a scale called Sound Transmission Class (STC). Sound waves tend to decrease when they pass through a wall. STC rating quantifies and measures that sound wave loss. Higher rating means that windows are more capable of minimizing outside noise.
Most of the windows have an STC (Sound Transmission Class) rating of 18-30 which means that they reduce noise by 18-30 dB. Our regular glass units have an STC rating of 33 and soundproof models have an STC of 38-43 which means that our soundproof windows reduce outside noise by additional 13 dB in comparison to most windows in the market. To illustrate what difference 13 dB make please see the table below. It shows how people perceive difference in the volume level and its affect on a person.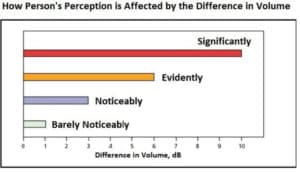 Noticeably: that is the difference between our standard tilt and turn windows and our competitors tilt and turn windows.
Evidently: can be achieved by implementing Soundproof Upgrade Level 1
Significantly: can be achieved by implementing Soundproof Upgrade Level 2
For houses that are located close to airports we provide an option that would decrease the volume by up to 20 dB.
Discounts
GL Advanced Windows soundproof upgrades increase the cost of a window by 3-5%. It can be covered by our 2020 discount program. Please request a quote from us and add a message that you would like to get this discount as well as the type of urban noise you are bothered with.