German Windows, Custom European Windows Perfect For the US and Canada
German windows are the level up from American ones. They open like an inswing door or tilt in like an upside-down hopper. Their non-sliding hinges, steel core frame support, and multipoint locking system make them stand out. These are preferred in Germany called tilt and turn for their easy to open design and healthy ventilation.
GL Advanced Windows offer premium quality custom windows and doors. All based on efficient German technologies. All for a customer-friendly price. We specialize in high quality custom windows, not regular ones. As such, we use the best German window system. As well as high-grade frames and super energy efficient soundproof glazing. This allows us to provide products that you need and ones that will continue to serve you for many years.
With our custom windows and doors, you pick the exact size. No "standard sizes only" here. You pick the color, over 60 options for that. No painted coats that will fade in 5 years. You pick the performance attributes. Such as sun heat protection and sound blocking level. As well as the glass reflection percentage. With these options, you can make big performance changes. All for minimal investment. For example, by adding just a few inches to the size of your window, you may gain 10% - 20% of sun light inside.
How much do German design windows cost?
Germany has windows just called tilt and turn. Unlike fixed windows, tilt and turn ones can open in two directions. You can select the 'tilt' position for passive ventilation. Or, choose the 'turn' position for maximum air exchange. This is due to the window's advanced design. The window lets in fresh air while at the same time preventing rain and dust to enter. The turn in window is in the optimal position to allow for the rapid air flow in and out the window.
Opening Tilt and Turn windows could not be simpler. The window has one handle, it allows easy operation for anyone. All positions can be chosen with an easy, one-handed action. In the downward position of the handle, the window is in the locked state. The window is secured with multiple locking points all around the frame. This makes the windows secure, unlike common windows which hold only by the hinges and one locking points. By turning the handle by 90 degrees the windows can swing inwards, this is the turn position. Another 90-degree rotation enables the tilt position. In this position the window can be pulled towards the user, tilting the window inwards. When the window is tilted inwards, it creates a gap in the upper part of the window. This gap is used for air extchange. The tilt function also has a micro ventilation mode. In this mode the handle is between the turn and the tilt position. In this mode, there is a small, narrow gap for slow but smooth air exchange.
German Doors And Windows
German doors and windows have several outstanding features that make them unique. Such as the multi-point locking and steel core tubing. Zinc and aluminum galvanized core is sometimes used as well by some others. Unlike ever before, more vendors are pushing German doors and windows to be a mainstay option. They will always increase the value of any project.
German doors and windows are available in large sizes. This is possible with the use of steel and sometimes aluminum core and multi-point looking. It allows for many design options. The glass on German windows and doors can also be very large. Usually German doors and windows use triple pane glazing. With some projects using quadruple pane glazing.
German windows and doors are very stylish. They are especially great for modern or generally newer style homes. Our German doors are available in many styles. Such as the popular overlap style and many more. This creates options for architects to come up with efficient and high class designs. This is why you see German style doors and windows commonly used in high end or mid-high projects. However, with our customer friendly prices, you do not need the budget of a large home-owner.
Which direction should a window open? Why do Windows in Europe open inwards?
> Inwards are better, but it is strongly depended on the vendor and hardware quality. Outward opening window advantages:
Does not take up space inside
Self tight from the exterior wind pressure.
The seal tightness is not so dependent on the quality of the manufacturing and hardware.
Easy screen replacement.
Inward opening window advantages:
Easy maintenance.
Healthy passive airflow.
Fast operation.
Senior friendly.
Safer for emergency exits.
Very user-friendly.
How big can a tilt and turn window be?
Tilt and turn windows can be up to 60" in width and 60" in height. Or 48" in width by 84-96" in height. That is each sash can be 60" by 60" or 48" by 84-96". Tilt and turn windows can be made to be up to 64 sq.ft as all the combined panel.
Advantages of German Style Windows
Tilt and turn windows first gained popularity in Germany. Now, they are spreading to the United States and Canada. People search for more efficient, user-friendly products. These are the key differences between American and German style windows:
1. Low Energy Cost.
The most notable difference is the cost of energy consumption. German tilt and turn windows are known for their outstanding thermal properties. It keeps a house at a set temperature for a longer time. Higher cost of German design window is outdone by its benefits. Savings in utility bills of triple pane windows is evident. Especially, when compared to regular double pane products. Tilt turn system is used in passive house projects to achieve excellent thermal insulation.Our efficient windows outperform many competitors when it comes to R-value of glass units. Regular triple pane units with one low-e glass have an R-value of 5-5.5, depending on the quality of the glazing. Double pane products have R-value of 3.7-4. Our regular options incorporate tow low-e glassed. Achieving R-value of 8-8.5 makes our products stand out in the window market. Such custom window can add value to the houses in North America.
2. High-Quality Glass.
In the US, houses are usually equipped with double pane casement windows. They have a single layer of air padding. It is not enough to combat harsh weather conditions and excessive noise. Custom-built German design windows offer triple glazing. It consists of three glass panes with two layers of air insulation between them. They increase the thermal performance of windows. Thicker glazing also improves sound insulation properties. Our goal is to maximize the amount of light that goes through the windows. Keeping them energy efficient at the same time is crucial. That is why we offer only premium quality glazing. We provide two low-e glasses in our triple windows. They exceed the level of visible transparency by 6% when compared to double pane products with one low-e glass. They are a popular option among American manufacturers and supplies.Quadruple glazed windows add additional layer of thermal protection and resistance. This option is chosen in areas with extreme weather conditions. It requires a specific assessment of the situation. We offer consulting services to each customer. Together we determine if quadruple window is what customer needs. We ensure that such windows would improve the quality of life of homeowners.
3. Sound Insulation.
Most of the outside noise comes inside the house through the windows. It has a great negative effect on comfort level of residents. It is a source of discomfort for urban dwellers in the region of the United States. The situation is no different in Canadian cities. Our tilt and turn windows solve this problem.
We provide inexpensive sound protection upgrades. They make our customers' lives more peaceful and enjoyable. We work with customers to find a perfect solution for each specific case and region. We have upgrades that achieve the same level of sound protection as walls do. Or sometimes even better.
4. Performance-Based Design.
Unlike cranking style windows, German style products have a different system. They are fix/picture, tilt and turn, storefront windows. Germany also has picture windows. These are just fixed German style windows do not open. Their glazing maximizes benefit of their physical properties. Homeowners operate tilt turn windows with great ease and comfort. Their wide open position allows quick ventilation on demand. Two other air exchange modes conduct air exchange in a more subtle way. Storefront windows are perfect for commercial buildings. They allow lots of natural light inside. They make the building look modern, showcasing products well. Storefront windows upgrade the office space, elevating work environment. They will make the space inside look lighter.
Vinyl windows have shown to stand the test of time. We use only the quality materials. Steel reinforcement in the window frame adds structural strength to the products. It is crucial for both residential and commercial projects. High performance, cutting-edge technology are features of our tilt turn windows.
5. Visual Impact.
Modern technology ensure high quality and durability of our products. GL Advanced Windows offers a variety of frame colors. That's how custom-built windows enhance the house. Chosen color adds uniqueness to the look of a building. Different designer elements, such as grills or bars can be selected. There are other elements of decor that can be used. High quality materials play an important role. They ensure that the tilt turn windows won't lose their condition within few years. They will perform to their best for a long time.
European style tilt and turn windows are perfect for replacing old ones. Easy installation make them a popular replacement window options. We offer commercial/residential windows in a variety of colors with easy installation. They can make a building look more appealing, increasing its market value.
Most people still buy American windows over German uPVC windows. It does not matter if either one is better than the other. Both windows have flaws and benefits. Most people lean towards the traditional American windows. They have low cost and a familiar appearance. Performance features of German technology products are disregarded then. Triple glazing leads to a high thermal performance. Savings in utility bills, increased comfort justify the slightly higher cost of German style windows.Customers need to evaluate their options before purchasing. Elements like style, thermal efficiency, and the cost must be considered.
Average Cost Of Custom Windows
| Custom window type | Average cost of custom windows (per unit) | Installation cost (per window) |
| --- | --- | --- |
| Picture (fixed) | $200 - $3000 | $40 - $700 |
| Casement / Tilt Turn | $300 - $1500 | $60 - $400 |
| Double Hung | $300 - $1000 | $60 - $300 |
| Slider | $300 - $1600 | $40 - $500 |
The exact prices on different custom window types varies due to different sizes, quality standards, frame color options chosen, and several more aspects. To find an accurate price on your order of custom windows it is always best to check with different companies
How to Operate a German Window
Tilt turn windows are one of the best options the market has to offer. The system is convenient, easy to operate. When the handle looks down, it means that the window is shut. Rotation by 90 degrees wide opens the window. It allows rapid, effective air exchange. Turning handle by another 90 degrees. Results in upper part of a window tilting inwards. It allows the fresh air to enter the room in the upward direction. Tilt position conducts air exchange in a barely noticeable way. It aims to minimize the risks of the home owners catching a cold.
Quick and effortless motions are senior friendly. They do not require continuous rotating motions, like in cranking system. Getting tilt and turn windows is optimal if residents experience pain in wrists/arms. It minimizes their level of discomfort.
The structural design of the products makes them great replacement windows. Their energy efficiency just adds to the overall appeal of the products.
Importance of the Main Coefficients for German Tilt Turnf Windows
h2>
GL Advanced Windows ships the products across Canada and the US. The company has test result certificates to comply with regulations. Few calculations measure the performance of Germany style glass window. It is important to check them before installing the products. These values play a role with the passive house projects customers. Passive house windows and door system have higher requirements.
·The U-Value
First all, U-Value is calculated which shows a number between 0.12 and 1.2. Lower U-value shows that German uPVC windows performance is optimized. It transfers less solar heat. US Department of Energy (DOE) suggests a U-value of 0.3 or less to maximizing efficiency. It is boosted by selecting openable windows with special low-e glazing.
·SHGC
The Solar Heat Gain Coefficient (SHGC) reflects the rate of solar heat that enters the house once it has reached the glass. Ideal SHGC value is between 0 and 1. The lower the SHGC, the less solar heat it transmits. This rating method directed by the National Fenestration Rating Council (NFRC). The ratings are based on the performance of the whole window. It includes the effects of the frame. Glass windows with fewer panes have higher SHGC values.
Recommended Specifications
· Achieve U-value of 0.16-0.19
· Triple or quadruple glazing (German triple glazed windows recommended)
· Two Low-E glasses
· Optimal SHGC level for the climate where the project is located. Cardinal directions the glass windows are facing should be taken into account. It is crucial for both residential and commercial buildings.
If windows face south, it is essential to get a lower SHGC. Otherwise, residents may find themselves living in a green house. Sun would heat up the room and air conditioning would need to be turned on. This would increase utility bills. It would also created unbalanced temperature climate in the house. To avoid this situation, we offer sun protection.
Can a window be opened from the outside?
No, the multi point locking all four sides of the frame secures the window firmly. American, dual glazed windows do not have such security. American windows are only secured by the hinges and one or two locking points on one side of the frame. Unlike those, European windows are secured with multiple points of locking all around the frame. An attempt to open the window from the outside is close to impossible with our windows. Our European windows have burglary resistance up to RC2. This is the European standard, it called a 'standard' but it is strong.
German Style Windows In Usa
German style windows in the USA is becoming a new trend. But many are still unfamiliar with this superior design. They open up many exclusive possibilities. They have big frames, can have huge sashes, are much more durable, and have a more efficient operation system.
In the USA, many are used to having vertical slider or casement crack style windows. So, it may be hard to understand German style windows and adopt their design. But their superior operation and performance is becoming more accessible to people in the USA. As such, people building and designing new projects or renovations are starting to implement German style windows. This is especially noticeable in New York. As soon as someone starts to use them, they almost never want to go back to a casement or slider. They also have a very nice and modern look. The big bold frames and large sashes create a visually expensive look. They look great in white, black, and woodgrain coloured frames. In addition, they will remain that way with very little maintenance for long. This is possible due to the steel or zinc and aluminum galvanized core frame reinforcement that goes inside the frame. It is not visible but is very effective. Our German style windows have extra wide steel core frame reinforcement for maximum durability. They are also not painted, so the color will not fade.
German Tilt And Turn Windows In USA
What are German tilt and turn windows and are they available in the USA? German tilt and turn windows are next level windows. Built for the future. They are wide spread in Europe and now more are used in the USA. They are super functional and reliable to any owner.
Operable windows in the USA are crank style or vertical sliders. These may be okay as a tradition USA option. But better exists. Such as tilt turn German system. It is becoming popular because of its innovative operation. Their simple handle controls a multi operation system. This system is fast and easy to use. With it you can either swing the sash in, tilt it in, or lock it in place. In the tilt position you get healthy ventilation. In the turn position you get cleaning convenience. In the micro-ventilation mode, you get slow and consistent air exchange. All of these operations can be done in under 2 seconds. All with instant response.
New tilt and turn windows are compatible with projects in the USA. Although they are German designed and use German technologies. Not American ones. More innovative versions are on their way. As the demand for them increases in the American market. Now, unlike ever before you can find German tilt turn windows perfect for your dream home. With us, premium German tilt turn windows don't have to be expensive. Instead, enjoy our customer friendly prices.
German Windows In Canada
There are many German window options in Canada. The German design in the window market has been receiving more traction in the last 10 years. The superior design in terms of usability, energy efficiency, style, and structural strength are the leading factors of growth. Currently, because of the expanding industry, Canadian customers have many more options. Before, American style windows were almost all that was affordable. While there was some choice in the past, other options were limited. They were also expensive and needed improvement. Canada, being a welcoming business platform, allows for many venders to offer their products. This creates competition. But the competition in this German window market is driving positive feed-back. It comes in the form of options for customers. High energy efficiency is very beneficial in cities as Edmonton, Calgary, Winnipeg, and Saskatoon.We offer custom premium quality German windows. Everything about them is pick and choose. So, you do not need to limit yourself with standard sized options, a handful of frame colours, and layouts. Instead, you set custom sizes, choose from any of our 60+ color options which include 20 wood grains.All in what ever window layout you want. In addition, we also have 3 advanced window upgrades from which you can choose varying degrees of. They are sound blocking, sun protection, and reflection. When choosing from these, it is important to consider many factors. Such as the project location, local weather and climate, and cardinal placement. As well as the surrounding noise pollution, and the level of privacy you want.
Window Types Canada
In Canada there are 6 main window types. They are the picture, casement, double hung, German tilt turn, single hung, and slider. They all have their pros and cons. So, it is important to understand them, as it relates to your type preference, before making a final decision. Slider windows are one of the common window types in Canada. They have been used for many years, just like single hung windows. They are very simple but have many well-known weaknesses. Home Depot usually use these sliders as operatable windows for their shelves. A budget solution.Casement windows are another popular window type in Canada. They are a more advanced type of windows than sliders. They have some advantages. Crack style operation is common in these windows and many are accustomed to it. They have gone a long way in terms of performance. Before, they only came as dual pane but now can have 3 pane glazing.German tilt turn windows are not as common in Canada but are becoming more popular. They are like top of the line advanced casement windows. They have a completely different operation system. Tilt turn windows have 3 modes. A tilt mode in which the window tilts in, and a turn mode in which the sash swings in. As well as a micro air extchange mode in which the window tilts in just a fraction of an inch. These inswing modes make for a great user experience, even after many years.Picture windows are a very common window type in Canada. They come in many varying levels of quality. They have many amazing benefits that every house needs. Although they don't open, which is a big flaw, they have several qualities that openable windows don't have. They create unobstructed views and can be ordered larger for about the same price as smaller operable windows. The larger they are the more effective they get.
German Windows Manufacturers
All German window manufactures use profiles from only a few of other manufactures and suppliers. Some popular German window manufactures include Veka, Shucko, Gealan, KBE, and Rehau. They use glazing from world wide giants such as Saint-Gobain, Pilkington and Guardian Glass.German window technologies are commonly used in the European window and door market. Their amazing performance makes them a leader in the industry. Most real German window profiles are considered class A by the strict European classification. This class A means that the outer most profile walls are 11 gauge width. Window manufactures and suppliers from other countries outside sometimes copy the German manufactures or supplies. Making similar kinds of profiles but of class B (12 gauge) or C (13 gauge).We only use class A and never compromise on quality. If you have window profiles from Veka, Shucko, Gealan, KBE, or Rehau you can be sure that they are good. Standard American profiles are usually thinner than European class C. They usually come out having a profile wall thickness of only 14 – 17 gauge.
Why do German houses have shutters?
Not all German homes owners have window shutters. Homes located in a safe location do not need shutters. However, if the building is in a location with a high crime rate, shutters are a commonly implemented. But even homes in safe arias still need an RC 2 level as a good defense against potential robbers. RC 2 is a good and recommended level of security for all homes.
Why do European houses have metal shutters?
h3>
Shutters are used as protection. Homes in areas with moderate or high crime rates often use shutters as a way to keep the house safe. But not all homes need them. Homes in private property or generally in safe areas do not need shutters.
Shutters are used as protection. Homes in areas with moderate or high crime rates often use shutters as a way to keep the house safe. But not all homes need them. Homes in private property or generally in safe areas do not need shutters.
Why are there no window screens in Europe?
Not all homes in Europe can go without window screens. But in some rejoins of Europe, there are no mosquitoes. Thus, homes in those areas don't need screens.
Why are houses in Europe so small?
Many European homes were built hundreds of years ago. Back then homes were built small. It was done primarily to reduce the cost of the homes. The economy was week and poverty high. Thus, not everyone was able to afford larger homes. Homes built them which still stand have been most likely renovated but the house imprint stays the same. Therefore, older homes in Europe are small.
Doors & Windows Visualisation
Use the renderer to see what the doors and windows of your home will look like. By changing the color and style of performance, you can choose the one that you like. And then order it from us.

Interesting Facts
Strength
Our premium windows have a steel reinforcement that is 1.6-2.8 times stronger than other tilt and turn windows and over 5 times when compared to regular windows in the market.
Efficiency
Our tilt and turn windows exceed the ENERGY STAR certification standard by 50-70% in terms of insulation which provides a superior energy efficiency.
Soundproofing
With soundproof windows upgrade it is possible to reach a significant difference, decreasing noise level by 6-12 times, and up to 30 times in some cases.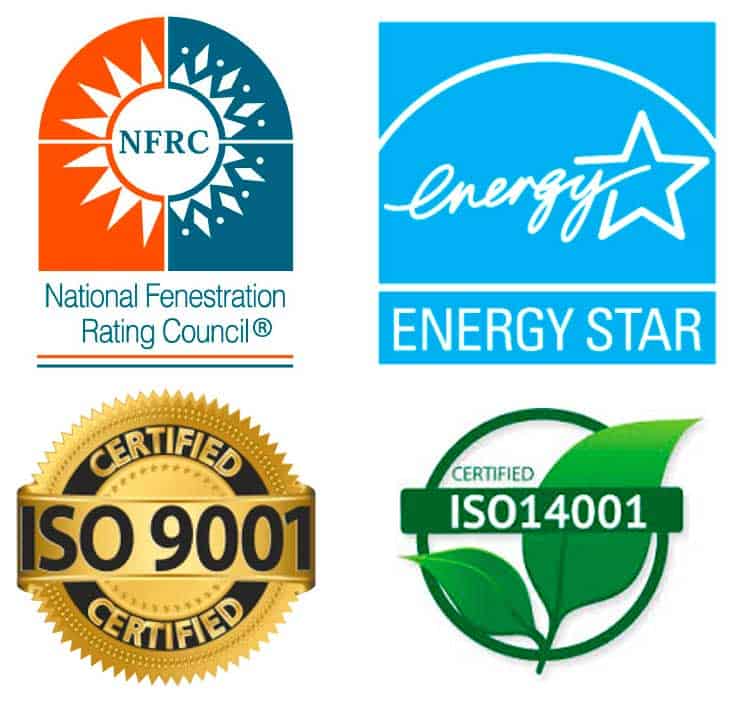 Looking for something special?
Send us an email and we will help you to find a perfect solution.
Send an Email
Quick Estimator
The biggest advantage that GL Advanced Windows has when compared to many other companies is its high quality. Top of the line materials, equipment, skilled and experienced workers lead to us providing energy efficient, beautiful, and quality windows and doors. With over 5 years of being present in the Canadian market, the return rate is 0.02%. Use the Quick Estimator to find out the cost of windows and doors.