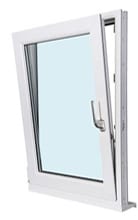 Perfect for ventilation
Thorough and healthy air exchange
Easy handling - senior friendly system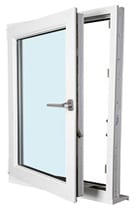 Takes less than a second to open a window
Easy maintenance
Enjoy a view from wide open window
Recently, efforts to minimize the amount of energy consumed by a household have resulted in people choosing European styled windows and doors. Modern design and high quality materials add value, prestige, and an extra touch of beauty to a home. European windows consists of high-end selective glass with a high level of energy efficiency that can be customized. Thick tripled-pane glass units significantly decrease heat loss of the house which remarkably reduces heating costs.
European windows provide exceptional sound and thermal insulation and are designed for modern passive houses since cost effective and environmentally friendly. Their structural design ensures reliable functionality and outstanding stability. The high-end thermal glass prevent overheating in summer. When sun shines at the windows, its glass glazing allows the sun light to pass through it but reflects ultraviolet rays. The indoor remains cooler and well illuminated than when using regular glass. The glass units have several layers of glazing ensuring high insulation and energy efficiently.
The high quality European tilt and turn windows are often hard to find, big box stores do not provide them. Purchasing European windows and doors is a long term investment in the house. current climate issues, the window and doors suppliers and window and doors manufacturers actively seek out some new and effective methods of saving energy and optimizing their budget. The European style windows and front doors have become more common Home builders prefer it over traditionally styled windows because of their functional benefits, reliability, and modern-cut designs.
No Compromise with Quality
Quality is the priority as GL Advanced Windows take care of every little detail while delivering the products. The windows and doors are:
Energy efficient
Have intelligent sealing
Have extremely good heat and sound insulation
With multiple locking points
Is triple glazed and quadruple glazed
European tilt and turn window combines the fixed, hopper, and in-swing designs. It's a 3-in-1 design that makes them must-haves for US and Canadian homes. Many European casement windows have in-swing designs. Usually, anyone that sees how they work (for the first time) might agree that tilt and turn installations are innovations from a rare concept.
As three windows in one, buyers have opportunities to use them as fixed, in-swing casement, and hopper windows. This European style windows and doors' cutting-edge technology is friendly to the environment and promotes healthy living. Tilt and Turn windows work in two basic ways. At the top, the user-friendly handle allows for turning and tilting the frames inwards. When the home's interior is stuffy, residents don't have to leave these windows wide open before they enjoy some fresh air. Leaving the indoor space without proper ventilation can cause molds to grow on walls and wood panels.
When users turn the handles of European windows more, it causes a full swing inwards the living space. With much ease of use, the flexible handle gives a wide aperture that enhances for maximum ventilation. Apart from the modern locking system, they have multiple air chambers with inert gases between their frames. While these windows keep out cold air, their energy-efficiency helps to conserve hot air in interior spaces.
As per the view of the financial importance of home investment, adding value to the home is a reasonable course of action. When the house is well-balanced as well as appealing inside and outside, it represents values such as integrity, grace, and class. European windows are energy-efficient, the high-end selective glass that the window panes consist of prevent heat losses. However, in some houses' effective windows will be a better investment than in others, particularly when combined with other energy-saving elements such as air sealing and insulation. Moreover, European windows have great soundproofing and low solar heat gain capabilities. It protects the house against outside noise and prevents overheating inside the rooms in summer time. Also, safety glazing and hurricane glazing provide an additional layer of protection against natural hazards. The European doors are made to avoid any leakage, rusted hardware and frosted deadbolts which are easier to maintain as well.
The style of tilt and turn windows that allows users to open them inwards like doors is attractive. Apart from having low maintenance costs, European windows improve aesthetic designs of the home's exterior facade. During the winter months, the tilt and turn windows resist the frosty build-up of ice on them. This anti-free property provides passive homes with optimum efficiency for heat gain. The climate zone of these end-users determines their choice of building materials. Winter seasons come with the urgency for homeowners to boost the thermal insulation performance of their homes. Their thermal insulation performance during the summer makes interior spaces comfortable. Also, thermal barriers block harmful radiations from sunlight and retain fresh air inside the house. It's the same insulating material for blocking the sun's radiation that reduces the effect of cold during winter months.
Everyone needs security and comfort in their homes. Modern windows with flexible designs are useful during fire and flood mishaps. When there are emergencies, children and teenagers can operate these windows with ease. The airtight compartments between glass materials of these windows are active. They don't support the conduction of chilly drafts and air leaks into interior spaces. By building energy-efficient structures with low thermal conductivity, contractors can help to reduce heat losses.
European windows in Canada and the USA also have draft-free ventilation features. Homeowners can enjoy uninterrupted views through tilt-and-turn windows. The efficiency of insulating materials should provide comfort and indoor air quality that's free from contaminants.
GL Advanced Windows import a stylish selection of windows from Europe. All windows are expertly and professionally designed and manufactured. Windows are great quality, come in a wide range of styles. They are fully functional and long-lasting.
The key features of European Window:
Triple functional glazing with a maximum thickness of 52 mm
Perfectly fitting steel forms
High tech sealing with up three end-to-end sealing levels
Six chambers end-to-end offer outstanding heat and sound insulation
No leaks, no rusted hardware, no frosted deadbolt
Safety glazing
Safety in hurricanes
Low maintenance
Multi-point locking
Choosing windows, with an architect, designer or home builders can be tricky. Most homeowners want windows that are of high quality and energy-efficiency. They want windows. While still being stylish, versatile and durable. GL Advanced Windows offers such European windows. The company does not offer double pane windows since they have worse performance. Triple pane windows are superior in term of heat and sounds insulation, security, and safety.
Five main reasons to choose European Style windows
Stylish windows
Affordable but luxurious windows
World-class quality and design
Heat and sound insulation
Energy efficiency and safety.
The easiest way to make sure you want to take the time to look into European windows in the market is to first think about what your goals are for the property. Think about the type of windows you would want to include. The appearance of your property would be important as well. Regardless, of your needs, European windows are a terrific choice for many residential and commercial properties. Regardless of the look that you are looking for, there is a type that would look amazing in your house. The style of European windows can also help you decide if you want more privacy or if you want just a clean look in your home. You may decide that you would like to enhance the look of your room with light. The subtle lighting will add extra flair to your room and make it a more impressive space. There are many different styles and designs for you to choose from.
For your needs for your new home, make sure that you are searching for the perfect European windows in cold climate. If you are looking for a window that can be a warm refuge for your family in your home that will be going through a cold climate, then you need to make sure that you are looking for the best European windows that will provide you with the warmth that you need. You will be able to help keep the air inside your home from being affected by the outside elements, and it will also help to keep the temperature of the home warmer in the winter. There are a lot of windows that are available for you to install, and it is important to choose the best of the best. And European windows is one of the best options the market has to offer.
One of the most well-known benefits of European Windows is the price. GL Advanced Windows offers very reasonable prices for an entire house. These type of windows are common in cities and are built to the highest safety standards. Another benefit of European windows is the lowering in cost of house heating that comes from high thermal insulation. Many people consider switching to European style windows due to the savings on heating bill that they would experience. And lastly, European windows are very easy to clean as they can be wide opened which gives an opportunity to reach far ends of a window.
The European windows will make you feel better by improving the overall quality of your home interior space. Increasing exposure to noise in the homes is not the only reason but it is certainly one of the primary contributors to a range of adverse health issues that have been linked to noise. That is why it is so important to install windows with good sound insulation. European windows block out the traffic noise and let you hear the sounds you want to hear. This is one of the main reasons why so many people are switching to European windows. There are many benefits to noise blocking by European Windows but the single most important benefit is that it will make your life better and to an extent to make you feel better.
In cold climates thermal insulation of the panels and frames of European windows help to regulate the rate of heat loss inside your home. Due to their temperature control properties, European Windows are often called "interior thermal insulation." Several systems are available that provide energy savings by minimizing energy use and utility bills. GL Advanced European windows are resistant to a variety of weather conditions, including high winds, snow, and rain. Some of the many benefits of European windows include: improved energy efficiency, superior insulation, reduction of noise level, protection against water damage, reduction in energy bills, and the ability to make the whole house more comfortable.
European Windows provide the benefit of a polished, modern look that is sure to complement any office space. The long years of use and exposure to different climates would not affect the look of the windows in a significant way since they have a long warranty. Designers have taken advantage of the hard-won years of expertise with building standards and have taken them to a different level. If you are thinking of adding to the character of your home, then one of the best choices would be to install European windows in residential houses. It can also blend in with other architectural styles. European Windows have a wide variety of designs. If you are interested in getting the perfect window to be integrated into your commercial property, contact GL Advanced Windows to obtain a quotation.
If you are thinking of installing European windows in residential buildings, you have to ensure that the best design will be able to fulfill your wish for the traditional European look of the house. One of the best ways to increase the outer appearance of the house and hence its value is to remove old windows and install European style windows instead. There are certain things that one need to consider in order to purchase the right material. Efficiency is one of the most well-known benefits of the European windows as they provide insulation that increases energy efficiency. They act as an insulator helping to reduce the energy bills.
The safety of European windows is an important concern for everyone these days. Safety is the primary thing that the owners need to look at in ensuring the safety of European windows. There are many ways to avoid break-ins with European windows as they have one of the best locking system. They have several types of locks windows that will provide a safety and high level of protection.
All the elements of European architecture and their many shapes, colors, forms and designs are part of a growing trend in windows. Aesthetic lines and styles are becoming more prominent in North America and a great deal of effort has been put into choosing the correct windows to serve all these needs. Choosing European style windows over other alternatives provides the consumer the opportunity to select a unique style and a more natural appearance of the windows. Aesthetics certainly plays a part in the style and appearance of windows and a house in general. When the exterior of a home is filled with European style, the "wow" factor is great. No doubt, the best design for a home should reflect the decorative and aesthetic aspects of European style. Because of the reduced maintenance involved, many individuals will find that they do not have to spend a lot of time on cleaning the windows. What makes European windows more attractive than other decorative types is the way they look when they are installed. Aesthetic alternatives are becoming available to the customers who seek a sophisticated look.
European windows have a very special kind of elegance. This can be attributed to the fact that these windows are made of durable high quality materials. The characteristics of these windows go beyond simply stylish beauty and functionality. They are made to blend into any modern home as they are not only durable but also contribute to a warm and relaxing atmosphere inside the house.