How Lift Slide Doors Work
The lift and slide door's name comes from its mechanism. With an easy-to-use handle, users can slide the door along the rails to open the door. When the handle is in the lock position, the door can not be moved. The seals align with the slide door's panel and shuts firmly.
Options like sun heat gain control and superior sound blocking are recommended. GL Advanced Windows offers a high degree of customization features. This allows the owner to find a cost effective and balanced solution for their homes.
What are Lift and Slide Doors?
Lift and slide doors are usually large doors used mainly in residential buildings. They are the most reliable and easy to use sliding doors. However, lift and side doors are very heavy. They are very expensive and usually only sell as large doors. These doors weigh up to 1000 lbs each sash. Total weight of the whole system may be up to 2 tons +. This makes them very hard to install. It takes lots of time and experience to properly install these doors. For opening the door, it takes twice or triple the time to open and triple the effort to do so than a swing door. Thus, lift slide doors less than 80″ in width are not optimal for a home. Lift slide doors are very tall and thus require tempered glazed glass on both sides. It is done for safety, as a piece of good, thick and sharp glass, dropping from 7-8′ can damage users, especially dangerous for kids and seniors. Normally, glass is by law required to be tempered inside, but for lift side doors, tempered glazing is highly recommended to be both in the inside and the outside. Usually many vendors ignore customer safety. They don't mention the safety risks associated with large glass units not tempered on the outside. They do this to make their offer sound more price effective and appealing. But we value customer safety and highly encourage lift slide doors to be bought with tempered glass on the outside as well as on the inside. It is necessary for you and your loved ones to stay safe. Because we are concerned with our customers safety, we are willing to lower our margins and provide tempered glass on both sides of the glass for large, tall glass units. Such as ones in the lift and slide door. But it makes them more expensive and even heavier. Usually lift slide doors lead from the inside to an outdoor platform such as a deck or patio. Most lift and slide doors available on the market are very expensive, we help customers to situate their lift and slide door(s) to be maximally utilized. Our doors are of premium quality, but are available at the most price effective mark. We offer a lift slide door replacement too. This will keep the functionality and premium feel on a lift slide door for close to half price.

How do you open a Tilt and Slide Door?
With the turn of the handle, the door is tilted inwards, then the bottom of the door can be pulled towards yourself. In this position, the door can now slide. These types of doors are not recommended. They are flimsy and need extreme caution every use. The price between tilt slide doors and normal lift slide doors is 20%. There is very little return on investment with these tilt slide doors. Therefore, we do not offer tilt and slide doors. They are a very risky purchase. We only supply products granted to serve well over many years of use.
What is a Multi-Slide Door?
A multi slide door is a multiple section door. Each section of the door can slide to one side on their separate tracks. When all the sections are stacked in one Column near the wall, It is in the open position. In the open position it provides a large opening to the outside. When they are act as a large window in the closed position, they protrude like steps horizontally. If the sashes are thin (roughly 1.5 inches in thickness) the door system looks normal. But if they are of normal thinness, as required for good environment and noise protection, they look od. Thin panes may not be so bad in calm and consistently leveled weather locations. Ones without extreme weather or loud noise traffic. But for US and Canadian inhabitants, thin sashes are not a good option. They are very flexible and not durable enough to withstand even common, north American weather.

How Much do Large Sliding Doors Cost?
Large lift and slide doors have a maximum size of 10 by 44 ft. The price for these very large doors can be over $25,000. They can be motorized, remote operated, and controlled by a gesture. 12 by 8 lift slide doors can start from $4,000. We can provide the best price-effective solutions, sun heat protection, and soundproofing option.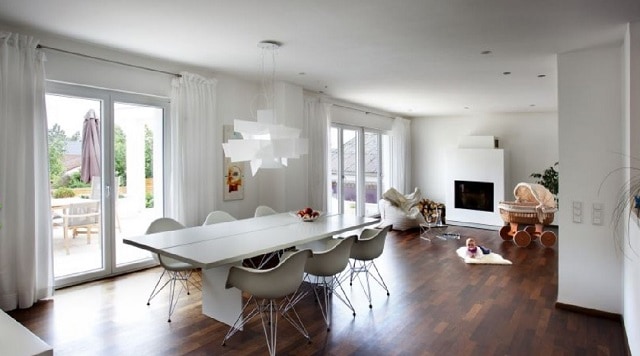 How Much do Stacking Glass Doors Cost?
Stacking, folding glass doors are very good for providing a transition between the inside and the outside. To integrate outdoor space as a continuation of the house. To use the door when stacked, a good warm, insect free climate is preferred. Everything is dependent on the size and glazing used. The price can start at $2,000. Usually segments are up to 3 feet wide and 8 feel tall and up to 6 segments each system for uPVC vinyl frames. However, aluminum frame stacking/folding door segments can exceed the 8 x 3 of uPVC vinyl frames.
Are French Doors More Expensive Than Sliding Doors?
The price of French doors and sliding doors don't vary a lot. Either option may cost more than the other depending on what type, of what quality the glazing is, and the market strategy of the vendor selling either product.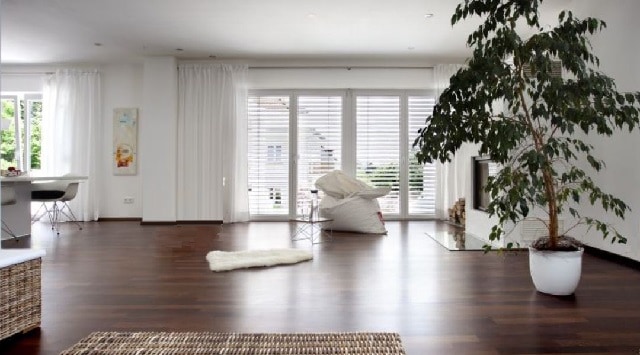 Which is Better French Door or Sliding Door?
Everyone has their own opinion on what is efficient and superior. French doors have a larger clear opening, usually about twice as large as what a sliding door offers. But French doors require space to account for their swing. It can be out or in, depending on your preference. French doors also demand a higher quality of hardware to be durable.
How do You Open a Tilt and Sliding Door?
Before sliding a tilt and slide door, the door needs to be tilted inwards than the bottom part puled out. They look nice after operation but during use, they are flimsy and feel unsecured. Lift and slide doors cost 20-25% more than tilt and slide ones but are much more stable, durable. Owners of lift and slide doors are confident in the durability and operation of the doors.
Advantagies of the Lift and Slide Doors:
Energy Saving:
Triple glazing with two low-e glass panes are designed to reduce energy consumption and heat loss. Energy efficient glass help to keep a consistent temperature with rare starts of the heater or AC unit. The low U-values and high R-values ensure warmth and guarantee comfort. With optimum thermal insulation and stability, you can enjoy proper ventilation and low maintenance.
Sound Proofing:
Outside noise is considered to be a negative stimulus in urban areas. It irritates the lives of city dwellers. We offer a variety of soundproof options. Based on the type and volume of the noise you experience, we provide windows that improve your overall comfort. Large patio doors consist mainly of glass panes. It is important to minimize the amount of noise they let inside.
Easy Operation:
Our lift and slide doors are easy to use. With an effortless lifting mechanism (roller system) our lift slide doors glide across the rails without much resistance. Thanks to the high performance hardware, they are very senior and child friendly.
Fantastic View:
Lift slide doors consist of large panes of glass that allow a lot of natural light inside the room. They serve as large windows, presenting an unobstructed view of the outside. Tinted glass tones can help control the intensity of natural light entering the home. It also helps to control sun heat and prevent overheating. Mirror glass can allow the homeowners to enjoy the view while not letting anyone to see them through the glass.
The visual appearance of a facade have influence to the real estate market value of the house. Interior designers like sliding doors as a way to increase the visual appeal of the house. Lift slide doors with a progressive design and profile can make the room look lighter, more spacious, and inviting.
Modern Technology:
Our lift and slide doors work smoothly. They are well-designed and use the best German technologies and high degree of quality control. The large profile of the lift and slide door creates a spacious living experience. We implement a galvanized steel frame reinforcement to ensure a durable and stable product. Stainless steel hardware provides smooth operation and long term service. Lift and slide doors have some impressive features of wide range of glass and frame designs. With over 60 color options available, buyers can make their house nice and unique. Colors that resemble natural wood, like oak or hazel adding value to the interior and exterior. Our triple glazed glass enhance the efficiency of the lift and slide door. They are suitable for many styles from country to high-tech. Since glass walls increase the user's freedom of design, they are perfect solutions for modern construction.
Space Saving Design:
Regular and french doors come with designs that allow them to swing inwards or out. They use the living space to create an opening for people to walk in and out of the home. It's a different design with the lift slide doors because they don't do need space to account for swinging. Instead, they move along the tracks towards its fixed part with minimum effort. Their space-saving design gives more room for anyone. Both behind and at the front of the door. This design allows homeowners with patios to place plants or furniture indoors and out doors. Outdoor furniture, or a grill can stay close to the entrance.
Are The Lift And Slide Doors Perfect For Homes?
Many homeowners decide to install Lift-slide door usually faced the backyard. It allows a lot of natural light into the room and perfect garden door. Such a system makes the space look larger and allows an unobstructed view on the outside. These systems are great not only for homes located in urban areas. They are also perfect for lake houses, showing a panoramic view of the nature outside. They are perfect for walls that face east. They would not overheat due to high solar heat gain. Glass panes facing south and west, and would not allow high heat loss, like large windows facing north. Home residents would have a chance to enjoy beautiful sun dawns. We offer options that would optimize solar heat gain and glass transparency to find a perfect solution.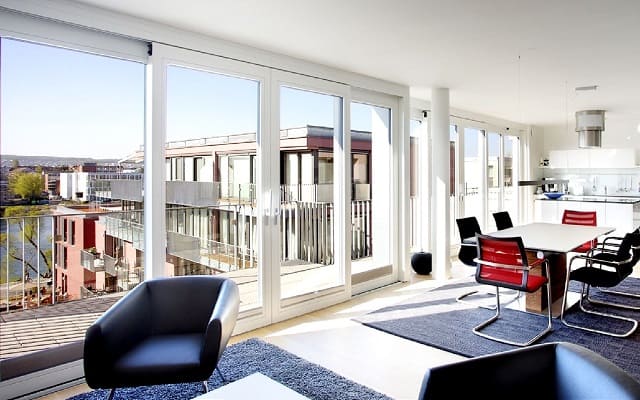 Lift slide doors for commercial structures
Lift slide doors are essential for commercial structures like offices and resorts. The lift and slide door is popular because it has a timeless and a modern design for decades. Usually, these doors have between two and four panels. However, they seem to be well-aligned on a set of guiding rails and run parallel with seamless transition.
Glass doors are best facing the backyard of the house. Such position maintains a certain level of privacy. Often, patio doors open up to a deck which is perfect when it comes to family gatherings or weekend BBQ. Opening door panel serves as a window and as a door, many people find it to be a useful feature. Lift slide doors are also a good exit escape if there is an emergency. It is quick and easy to open a large door panel and leave the house. Industry standard require the tempered glass on the interior part of the door to be below 12″. It is designed to prevent injuries if the glass gets shattered.
High performance glass optimizes the solar heat and make rooms with lift slide door comfortable. We provide the best solution for each specific project. To meet requirements and increasing value to the homeowners. Such stunning doors would make the building look more inviting and attractive. Lift slide doors are gaining common in Canada and US. Glass panels make the building look more modern and elegant. Superior thermal insulation leads reduced energy consumption and balanced temperature inside the house.