When selecting an ideal door choice for the interior of a house few questions can be used to make an easy decision.
What will be the purpose of the door? Decoration or privacy?

Is there any preference for wood type?

What are the weather conditions in the desired place?

What are the dimensions needed?

What is the application of the door? Passage or wardrobe?

What is the theme preference?
After answering all these questions, it will become easier to approach your desired target. With so many characteristics and choices to choose from it becomes overwhelming taking a decision, in such cases, a little self-quiz always helps.
TYPES OF EUROPEAN DOORS
Interior doors come in many different styles are made of a variety of materials. The type you choose greatly affect the overall look and performance of your house. Each type of door is known to give a different effect than the other and might portray an image relating to a particular culture. It is vital to select a door to match the general theme of the house. The most common types of European doors are:
Panel doors
Panel doors are the most commonly used type of doors and such doors are visible in every other household. These doors are the first hand and an elegant choice for interior doors. They are made up of wood with a classic, traditional pattern, this simple yet captivating design makes them the first choice for every buyer. These doors fully fit the phrase 'the simpler, the better'.  Panel doors come into even further categories. From panels ranging from 2 to 6 and even more, there is no fixed patterning of wood for these kinds. Carpenters can get pretty creative with these doors.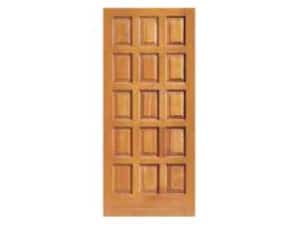 Flush doors
A classic clean option for the elegance in you. This type of door id the pure epitome of beauty and grace with no complex designs. They are a simple wooden frame that might combine with the coloured frame to give an overall decent look.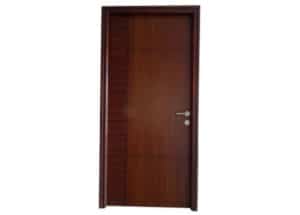 Bifold doors
These doors slide instead of opening from one side. This makes them able to be perfect for sufficiently small places. They are hinged together and can slide over one another over a predetermined track. These types of door are most commonly known as the European interior door.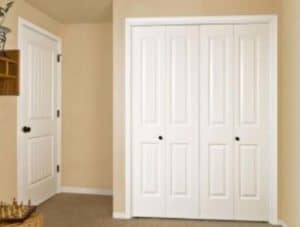 French doors
French doors, known for their dramatic touch to the overall design of the interiors has two hinges hung doors at each side of the opening. French doors usually have outer wooden frames with inner glass inserts or stylish decorative panels. These doors add great beauty and style to the entrance of bedrooms and also serve as an elegant passageway for dining halls. The best thing about French doors is that they can be used for both internal or external gateways.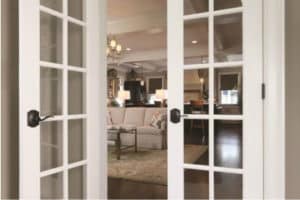 Pocket door
Just when a trend is about to become extinct it comes back with another bang. This is entirely true in the case of Pocket doors; these doors work similar to sliding doors but are a single door. They were most common in old times but were less used due to poor lubrication in the sliding path which could cause them to stuck. The latest pocket doors are ab example of the style with tradition and are most common amongst people who love to have a touch ethnicity in their lifestyle.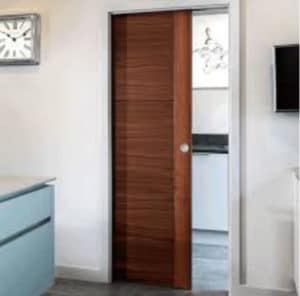 Dutch doors
Dutch doors are the ones that can be identified easily and all because of their unique design. They have separate panels for top and bottom and divided horizontally. Such doors are a nice option for the kitchen and they can also be used as a front door.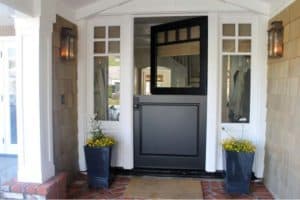 Each type of door selection requires a different kind of frame construction. It is important to have a strong initial mind about the choice of interior doors as it will save from the cost of rebuilding a framework later on.
The next thing that comes after deciding the type of interior door to be selected is the door material. When selecting the material for European doors it comes down to the two most common factors the choice and the budget. It is suggested to learn about each material type before prioritizing one over another.
Solid Core Doors
These doors are made up of composite and plywood exterior and the interior is filled with wood-fibre. The solid exterior gives a sense of fullness to the door making it an expensive choice. The interior wood-fibre makes the door ideal for blocking all sorts of unnecessary sounds and give improved insulation. These doors are heavy like solid wood and may be affected by moisture levels so it might be a concern for people living in humid areas.
Solid Wood Doors
Solid wood doors are the hardest and strongest type of wooden doors. They carry the most weight and are highly strong giving resistance to any cracks or chipping. They are also very pleasant to look at giving an expensive, royal vibe. Being the most expensive option buyers still, opt for it because of its longevity and durability. The solid material is what makes it an exceptional sound barrier. 
Hollow Core Doors
As the name suggests these doors only consist of a solid wooden frame filled with a hard cardboard to maintain the shape. Being the cheapest option, it comes in handy when someone is renovating their home now and then. Due to their weak composition, the sound blockade and insulation are also poor as compared to other door types. However, they are a great option for highly humid and high temperature as they do not react to these conditions.
The European interior doors have exquisite finish and they are known for their luxurious feel since the European countries experience a range of weathers from hot summers to extreme winters so the choice of material is selected based on the region. However, some finishes can be applied to different types of doors. The two most common European interior door finishes include:
Stain Finish
It is a commonly practised finish used for interior doors. The stain finish is popular for its classy and cosy feel and it gives a simple yet traditional atmosphere. Stain finish is most common for wooden doors as it is ideal to paint on wooden grains. The stain finish comes in various colours and the possibility of each colour can be discussed with the manufacturer.
Paint Finish
A paint finish is a simplest and excellent way to add the colour of your choice to the interior doors. The benefit of this type of finish is you can easily paint over an already existing colour. Homeowners choose to paint over stains when trying to match the wall colour or theme of the house.
After discussing the types of door and door finishes it is essential to know about the most common features of the door. The door can be classified based on their sizes and shapes as well. The must-have feature of the door is the door frame. A door frame acts as a holder for the door. In simple words, there cannot be a door without a door frame. A door frame should be exactly the shape of the door but the dimensions of the frame are slightly larger than the door itself. As there is some allowance kept for the door to fit and easily facilitate its movement. It is also important to place the door at an appropriate place. A door should have enough space to be opened easily, moreover, the door position also depends on the age of the property. Older properties have varying sized door frames not necessarily square.
Knowing all this knowledge might still not be sufficient to easily decide on the type of interior door to choose. It all depends on the qualities desired to have in the interior door. An ideal interior door should be able to stand with climatic conditions such as extreme temperatures and humidity. In the case of selecting a door for a bathroom, the ideal material should be water-resistant and must not react with humidity. The interior door must not mismatch with the theme of the whole house. Poorly selected design or materials may stick out like a sore thumb.
Now the door selection type depends on the available space. For example, sliding doors are used for larger frames and areas where the dining meets the halls or the passage from the interior to lawn. These doors can be used where there is a limitation of space for the door to be opened and closed by hinges. With areas of available spaces, hinged doors can be used. When both of the above choices are impractical bifold doors can be installed as they are both practical for small places and easy to install.
When it comes to European interior doors there are a few popular collections. The European interior doors mainly German interior doors are known for their huge market share. According to the statistics in 2016, the European interior door market was valued at $10,340 million and it is further expected to reach $14,486 by 2023. The popularity of this market is due to its high quality and exquisite designs. These designs are known all around the world for their classy look.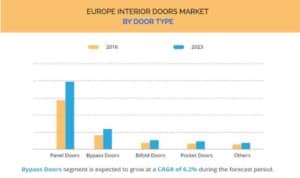 Adding to this, the fast urbanization and renovation of the existing building now and then due to ever-changing trends are expected to give a huge rise to European interior doors global markets. The Europe interior door market ranges from completed designing of doors to designing the door handles, frames hinges and door covering material. Based on the door type the market comprises of the panel, bifold and pocket doors. Based on door covering the market can be divided into laminated and lacquered doors. The main regions of European interior door markets comprise od countries namely Spain, France and Rest of Europe (Germany, Italy, Russia and the UK).
Some other reasons for the undeniable popularity or European door markets are the development of energy-efficient interior doors and innovative techniques that promote environmentalism. With increasing concern for global warming and the need to save the earth has promoted awareness among the manufacturers to introduce techniques that are healthy for the earth. Besides that, improvement in the economy of these countries has led more people to afford a lavish lifestyle who can afford home renovation frequently.