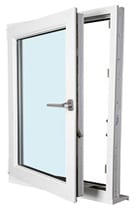 Takes less than a second to open a window
Easy maintenance
Enjoy a view from wide open window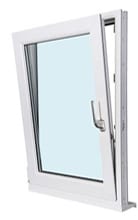 Perfect for ventilation
Thorough and healthy air exchange
Easy handling - senior friendly system
These elegant yet functional European windows are smooth and easy to operate. They allow passive and secure ventilation at the turn of a handle. Select another setting and the rate of ventilation will increase while keeping the building safe from intruders. Tilt and turn windows can lock into several selected positions, providing a great versatility. For maximum convenience the homeowner is able to clean both sides of the window pane from the inside. The unique settings options enable occupants to use the window as a rapid egress point in emergencies.
But what does the tilt and turn window offer beyond the standard product? Aside from the stylish, ultra-modern finish they confer on any home or commercial building, the benefits of choosing tilt and turn windows include:
• Improved building appearance
• Added value to the building
• Quality finish and attention to detail
• Simplicity and ease of use
• Increased safety and security
• Substantial thermal advantage
• Sound attenuation – the acoustic advantage
• Fire resistance
• Environmentally friendly
• Low maintenance
Enjoy High-Performance Quality With Tilt And Turn Windows and Doors
The high-performance design offered by tilt and turn windows and doors includes double EPDM rubber gaskets and a multi-point locking system to ensure a tight seal for superior insulation, which keeps homes warmer in winter and cooler in the hotter seasons. Additionally, these tight weather seals help to substantially eliminate any external noise from intruding on the interior environment.
The advantages of increased security, thermal efficiency and noise reduction coupled with optimum ventilation are maximized with triple glazed tilt and turn windows. They provide lifelong energy cost savings while delivering year-round comfort, even in severe climates and even greater efficiency is possible if the homeowner chooses to step up to quad glazing.
With triple or quadruple glazing, owners are able to customize the level of protection they are seeking. Such products will add significant value to their property with the increased energy-saving features and premium acoustic attenuation. Modern home-buyers are actively seeking enhanced energy efficiency, which influences their purchasing decisions, giving home-sellers with tilt and turn windows and doors a considerable market advantage.
Safety First
Tilt and turn windows and doors are fabricated with full steel reinforcement coupled with technically superior locking mechanisms. These factors convey high performance in the areas of durability and more particularly for enhanced security. This ensures that the homeowner's safety is built-in to the product, not bolted on after as found in more conventional window and door systems.
The top inward opening tilt position provides a safety precaution against young children climbing out through the window. This improved child safety feature means that tilt and turn windows are not only ideal for ground floor applications but are also excellent for multi-store installations. In addition, the thickness of the glazing is a precaution against intruders attempting to smash their way into a building and the multi-point locking system ensures that the window cannot be breached.
Most conventional security screen products installed by homeowners to prevent intruders can prove to be counter-productive in emergency situations. In case occupants need to make a rapid exit from the building, for instance in case of fire, tilt and turn windows offer an elegant yet simple solution. In the 'turn' position people can safely escape through the wide-open window and avoid being trapped by otherwise immoveable, strongly fixed security screens.
Artfully combining functionality with security, this European advanced designing offers greater protection from intruders while enabling escape in emergencies and still providing optimum illumination and ventilation.
Resistance to Weather Extremes
The exceptional properties of the tilt and turn windows and doors are designed to ensure they do not react or alter under extreme temperatures or harsh weather conditions. The product is rated to endure high levels of UV exposure and proves ideal for buildings that are subjected to heavy rain, strong winds, dangerous storms or exposure to ocean spray. Additionally, despite life-long exposure to weather extremes, the frames won't rust or rot and the color will not fade.
Environmentally Superior
Despite the sleek, modern appearance, tilt and turn technology does not compromise functionality for style. Regardless of the climate zone, tilt and turn windows and doors will create a comfortable living environment in any home while at the same time adding an enviable sophistication to the building's façade. They offer considerable environmentally friendly advantages over traditional windows, including:
• A reduced carbon footprint
• They use less energy in production
• They have double the life span of aluminum framed windows
• They have triple the life span of timber
• They do not need regular painting and won't split, warp or fade
Choosing tilt and turn windows and doors will increase any home's competitive market appeal and add significant value to the sale price. Switched-on home-buyers are now deliberately sourcing energy efficiency and favor homes with cost-saving features for their next purchase.
Resistance to Fire
The construction design of European-style tilt and turn windows and frames will not support combustion which ensures that these windows and doors are ideal for homes constructed in bushfire-prone regions. Homeowners can be reassured that the air-tight seals and fire-resistant materials will provide a high degree of protection not afforded by standard aluminum-framed windows and doors.
Low Maintenance
The best tilt and turn windows are fabricated from quality materials. They do not require any regular sanding, refurbishment or painting. They won't crack, split or warp over time. The windows and frames are basically maintenance free, requiring nothing more than an occasional wash to maintain a pristine appearance. Simply give them a basic wipe clean from time to time and the locks and latches can be lubricated annually to maintain peak performance.
Triple or Quad Glazed – The Choice is Easy
Homeowners can opt for triple glazing, and even quad glazing, for their tilt and turn windows for superior energy efficiency. Substantial amounts of household energy can be lost with traditional aluminum-framed single glazed windows. Whereas tilt and turn windows can boast a U-value greater than 2.3, which performs up to 4.5 times better than conventional windows.
This delivers significant advantages, including:
• Life-long lower energy costs
• A reduced carbon footprint
• Reduction of heat loss in cold weather
• Reduction of heat ingress in hot weather
• Withstand severe weather events including storms and fires
• Substantially reduced external noise
• No maintenance required
Multi-glazed windows are manufactured with a void in between the panes of glass, which can be filled with argon gas to confer superior thermal and acoustic insulation. The builder or homeowner can choose different energy ratings for their windows and doors by opting for their preferred configuration, selecting from the standard triple glazed to a premium quad glazed product.
Thermal Glass – Clever Technology
The advanced technology of the Tilt and Turn window design delivers a welcome reduction in heating and cooling costs for the owner for the life of the building. Households can count significant savings for their thermal comfort, regardless of the season. The smart glazing profiles available offer efficient thermal insulation which results in reduced energy consumption by 50-80% while at the same time providing a quiet, draught free interior environment for the homeowner's comfort and enjoyment.
Sound Attenuation
The tilt and turn profiles are proven high-performance windows, which function to sound-proof the home interior with the reduction of noise entering from outside. The double sealing and multi-glazing features combine to achieve maximum comfort. External noise has been shown to be reduced nearly eight times better by tilt and turn windows and doors compared with conventional single glazed aluminum-framed windows.
Passive House Certification
The Passive House Institute US (PHIUS) has developed a voluntary 'Verified Window Performance Data Program'. It provides verified performance data for building products like windows and doors, for designers and builders involved in the passive house movement. This system enables manufacturers to have their products verified by PHIUSb with a view to increase their exposure to that sector of the building industry dedicated to sourcing passive house advantages for their clients. Conversely, via PHIUS the industry has access to the reliable information it needs to specify these high-performance products in their construction projects.
With verification by PHIUS passive house certification, providers of tilt and turn windows and doors have successfully positioned themselves at the forefront of the passive house marketplace. The high-performance design criteria incorporated in the fabrication of tilt and turn windows and doors are optimized to achieve passive house certification. They meet the strict guidelines demanded by PHIUS, which require a dramatic reduction in energy loss and the maintenance of a constant, comfortable interior living environment for the building's occupants.
How To Operate Tilt and Turn Windows for Maximum Efficiency and Comfort
The tilt and turn window can open in two directions. The homeowner can select the 'tilt' position for secure ventilation or alternatively choose the 'turn' position to capture maximum ventilation. This is possible due to the window's advanced design. When it opens from the top (tilt) the window lets in fresh air while at the same time preventing the ingress of rain and dust. When it swings to open (turn), the window position enables optimum ventilation.
Operation of tilt and turn windows couldn't be more simple. A handle determines selection of the frame's multi-point locking mechanism. All lock positions can be achieved with an easy one-handed action. The handle positions include 'down' for locked, to one 'side' to open the window in the turn position or 'upwards' to move the window into the tilt position. When closed, all the locks are engaged and can be deadlocked by key. The number of locking points are determined by the size of the window. In this position, a seal is created that very effectively prevents passage of sound, heat or cold air.
When moved into the 'tilt' position, the window tilts inwards and locks in place but is restricted to a maximum opening of 150mm. This ensures security while allowing optimal ventilation. Air from outside is channeled inside around the open sides of the tilted window and since hot air rises, the hotter air escapes out of the window through the top.
When the 'turn' position is selected, the window can be fully opened inwards up to a maximum 180 degrees which captures maximum airflow. Applying the locking positions, the homeowner can determine how much to open the window and can restrict the extent of its position according to their individual preference. This flexibility is what allows ease of access to both sides of the window sash for cleaning purposes and also enables occupants to escape from the building in an emergency situation.
The Best Choice for Every Scenario
There can be no denying the good sense in investing in tilt and turn technology for any building, both for renovation upgrades and for new-builds, to maximize life-long cost-savings while increasing the market value of the building. When assessing the many functional advantages, the energy performance and the security aspects of installing tilt and turn products, any increased investment cost will be returned manifold for the duration of the life of the building.
Right across the nation, informed homeowners are now opting for this smart, innovative technology to maximize the value of their home while minimizing their environmental footprint and the comfort afforded by tilt and turn high-performance windows and doors in harsh climates renders any other choice considerably less suitable.
Now anyone can follow the lead of the Europeans, who have been quietly benefiting from tilt and turn technology for so many years. It is time for homeowners everywhere to join the passive house revolution and opt for superior products and an ultra-modern appearance for their home. Turn to tilt and turn windows and doors to achieve significant cost savings, increased security, maximized energy efficiency and a reduced environmental footprint.